Clippings
» save frequently-entered text for pasting later
Saves and manages frequently-entered text for later pasting into web page forms in Firefox or email messages in Thunderbird.
Pasting a clipping is accomplished with just two mouse clicks, eliminating the hassle of retyping or repetitive copying and pasting.
Version 6.5.1 (1.0 MiB; compatible with Firefox 102 and newer)
Also available from
Firefox Add-ons
.
Looking for Clippings for Thunderbird? Go to the Install page for download links.
Easy ways to create a clipping
From selected text in a form field or web page body in Firefox, or from selected text in an email message in Thunderbird
By dragging and dropping text into the Clippings toolbar button in Thunderbird
Save the web page address (URL) with the new clipping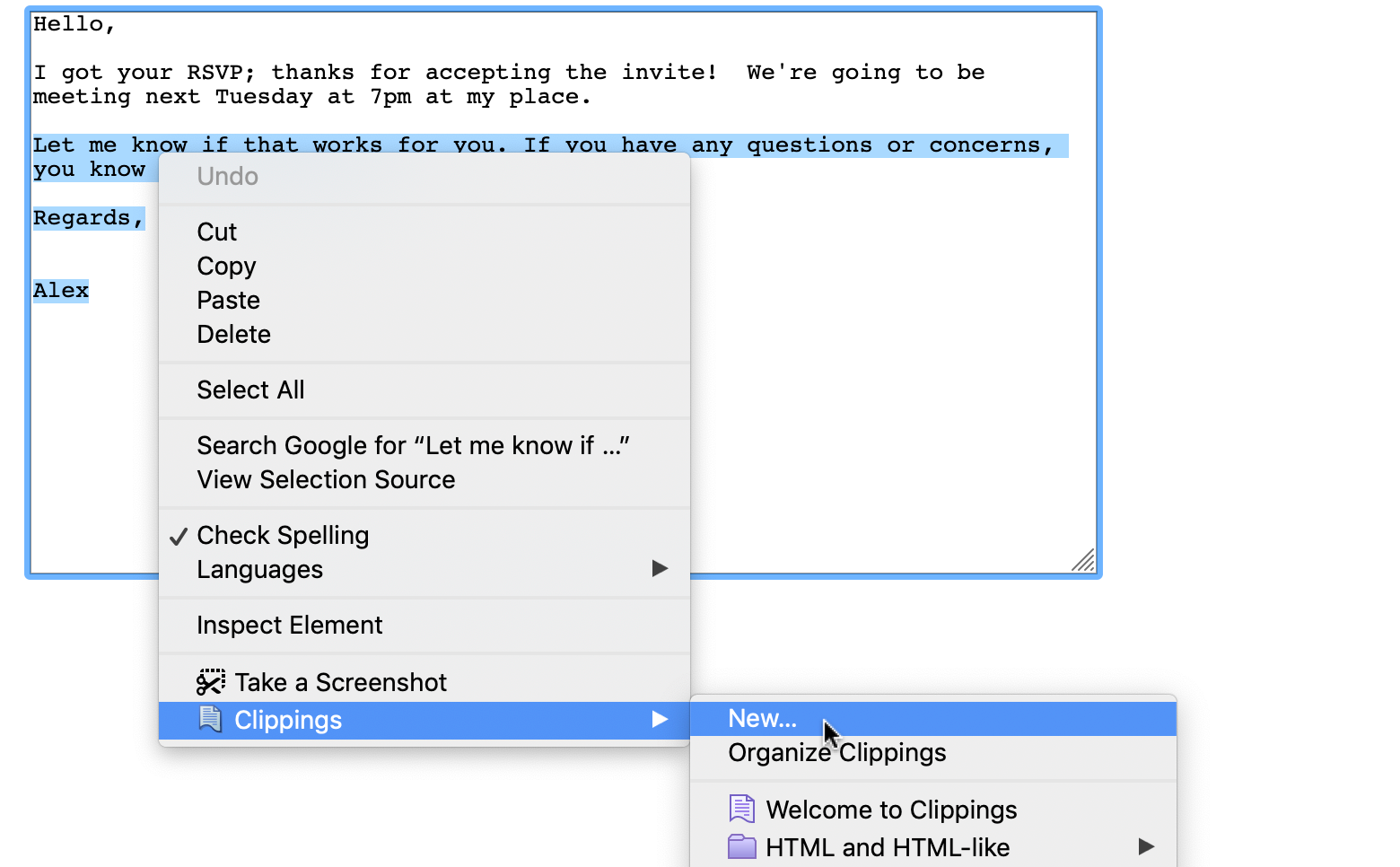 Quickly paste a clipping
Easy access to your clippings from the Clippings context menu in a web page form field (Firefox) or email message editor (Thunderbird)
Assign shortcut keys to clippings for quicker pasting. Just press ALT+SHIFT+Y (Command+Shift+Y in Firefox on macOS), then the shortcut key [1]
Locate the clipping you want to paste by typing its name and selecting it from an autocomplete menu
Manage your clippings
Organize your collection of clippings into folders using Clippings Manager
Make your important clippings stand out with color labels
Backup your clippings for safekeeping
Import and export your clippings in a variety of file formats
More useful features
Individual clippings can be pasted as formatted text if they contain HTML tags
Define placeholders inside a clipping that you will be prompted to fill in when you paste the clipping. Built-in placeholders for the date, time, clipping name, user agent, etc. are also available
Sync your clippings between Firefox and Thunderbird, or other instances of those applications [2]
Supported Languages
English (United States), Chinese (Simplified), Dutch, French, German, Spanish, Ukrainian
Do you want Clippings in your language?
If you are fluent in English and another world language and would like to help update or add a new translation, consider contributing a translation in Crowdin.
Boost your productivity by eliminating repetitive typing.
Made with for Firefox and Thunderbird.
Clippings is available under the Mozilla Public License (MPL), version 2.0.
Clippings Privacy Notice
Notes
Clippings for Thunderbird users: The keyboard paste shortcut on macOS is Command+Option+V.
Sync Clippings requires installation of the Sync Clippings Helper application.